Current News
As Coronavirus rolls on in Maryland, mental health tolls surges, with experts fearing spike in suicides.
Read the Baltimore Sun article here.
---
Baltimore Mental Health Crisis Hotline seeing surge in calls amid coronavirus pandemic.
Click here to read more.
---
BCRI featured on WYPR's On the Record
BCRI's Executive Director Edgar Wiggins, MHS was recently featured on WYPR's On the Record, where he discussed improving Baltimore's response to mental health crises.  Click here to hear the broadcast!
---
Second Lady Visits BCRI
On Wednesday, July 15, Second Lady Karen Pence and Dr. Elinore F. McCance-Katz, Assistant Secretary for Mental Health and Substance Use, visited Baltimore Crisis Response, Inc. (BCRI) to learn more about the mental health, substance use, and suicide prevention services offered to those who need help.
Led by Executive Director Edgar Wiggins, the visit started with a tour of BCRI's operations.  Mrs. Pence then participated in a listening session with BCRI staff and current and former patients, receiving an overview of how BCRI's departments work to serve the community and how BCRI has been adapting their services and programs during the COVID-19 pandemic. Staff also shared that BCRI is one of six National Suicide Prevention Lifelines in   Maryland, and provided information on their community education and training programs which address a wide range of mental health related topics including suicide prevention.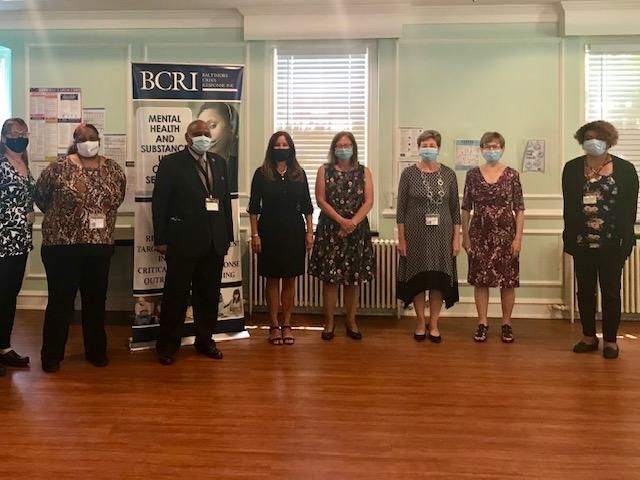 Current and former patients then shared testimonials of their recovery and healing. A former patient shared how he went through the BCRI program after years of homelessness and addiction. After completing the program, he later returned to work at BCRI. He said "BCRI became my safe place, and I wanted to give everything back to BCRI for helping me through tough times." Another patient said "Life is now a beautiful thing and I give everything I am today to BCRI."
Mrs. Pence concluded her visit with closing remarks, recognizing the need to address mental health issues and bring attention to people's mental health and emotional well-being. She thanked the BCRI staff for their important work in providing quality care and services to people in the Baltimore community as they overcome mental health and substance use disorders.
BCRI was honored to host Mrs. Pence and Dr. McCance-Katz as they continue to address the growing need for mental health services.
---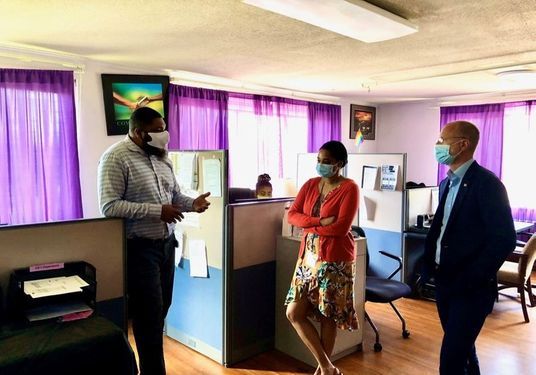 FCC Commissioner Visits BCRI
Federal Communications Commissioner Brendan Carr visited BCRI on July 13, 2020.  The FCC is voting this week to make it easier for anyone in crisis to reach a trained, compassionate counselor like those at BCRI.  They are doing so by adopting a simple 3-digit "988" number for the National Suicide Prevention Lifeline.   Mr. Carr toured the building and visited the Hotline, where he interviewed hotline counselor Elijah to find out about the calls we take and how 988 would benefit individuals in a behavioral health crisis.   Said Elijah, the best part of his job is "hearing from people weeks later that he helped get through a difficult time."
BCRI would like to thank Mr. Carr for his visit and we look forward to continuing our service to those in crisis through our 24/7/365 Hotline.