Brad Poger
February 12, 1968 - January 4, 2020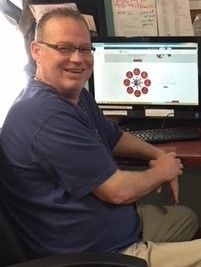 The BCRI community is sad to report the passing of Brad Poger, Director of Mobile Crisis Services.  Brad joined BCRI in 2016 and quickly became an invaluable part of our management team.  Even as the head of the department, Brad loved going on crisis runs in the Baltimore community and used every opportunity he had to better the lives of those most in need.  He was at his best when serving his clients.  He truly loved what he did and those he touched are mourning a tremendous loss. He will be greatly missed by everyone who had the pleasure of meeting him.
Brad's funeral service was held in his native St. Louis on Tuesday, January 7, 2019.  Please join us for a Celebration of Brad's Life on Wednesday, February 19, 2020 from 6:00pm-8:00pm at the Catonsville United Methodist Church Social Hall, 6 Melvin Avenue, Catonsville, MD  21228.  Please bring your favorite stories, memories and photos to share.  Light refreshments will be served.  Please RSVP to BCRI at 410.433.5255 x323.
Brad's family has requested that donations in his memory be made to the H.F. Epstein Hebrew Academy in St. Louis (www.eha.org) or to the charity of your choice, particularly BCRI.  Condolences may be sent to Mr. and Mrs. Larry Poger, 8115 Delmar Blvd, St. Louis, Missouri, 63130.
To make a donation in honor of Brad, Click Here